Botan Outskirts (Route 64 in Pokémon Brown) is a route in Rijon. It is one of the two routes which connect Jaeru City and Botan City. The Silph Warehouse is located in this route.
Map description
This area is not described by a map.
Required for navigation
Connecting Locations
Location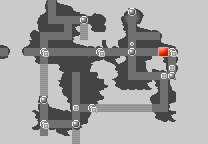 Location of Botan Outskirts in Rijon.
Items
[
]
Item
Location
Games
PP Max
In the flowers, near the gatehouse to Botan City (hidden)
 RijonAdv 
Rare Candy
In the north-west corner of the area behind the pond (hidden)
 RijonAdv 
Pokémon
[
]
Rijon Adventures
Pokémon
Location
Levels
Igglybuff
Grass
20-22
Chansey
Grass
22
Farfech'd
Grass
21-22
Elekid
Grass
20, 22
Bellsprout
Grass
21
Weepinbell
Grass
20
Magikarp
Fishing
5
Magikarp
Fishing
5-15
Poliwag
Fishing
5-15
Goldeen
Fishing
5-15
Poliwag
Fishing
15-25
Poliwhirl
Fishing
15-25
Gyarados
Fishing
15-25
Psyduck
Fishing
15-25
Psyduck
Fishing
25-35
Silph Warehouse
[
]
Main article: Silph Warehouse
A Silph Co. warehouse is north of the gatehouse. Depending on the game, it can be entered to find items, trainers and wild pokémon.
Gatehouse
[
]
Pokémon Brown
[
]
The guard here will normally prevent the player from progressing, but if they have a Beer Keg in their inventory, he will take it and fall asleep. The player can then pass through for the rest of the game.
If the player has no Beer Keg, but does have a Soda Pop or Lemonade, then the guard will take that instead (although his dialogue will still refer to beer). However, either of these drinks are more expensive to buy than a Beer Keg, so there is no real benefit to doing this.

Maps
[
]
Maps
Brown
Prism
Rijon Adventures
Trivia
[
]

If the Walk Through Walls cheat is used in Pokémon Brown, traveling East will lead to Route 67 (west of Hayward City).
The patches of tall grass North of the Silph Warehouse spell out "CHEAT:(".
[

]