Jurassic World: Dominion Dominates Fandom Wikis - The Loop
Play Sound
Map description
This area is not described by a map.
Required for navigation
Connecting Locations
Location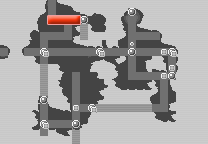 Location of Cycling Foothill in Rijon.
The Cycling Foothill (Route 49 in Pokémon Brown) is a route in Rijon. It connects Owsauri City, the Origal Maze, and Cycling Road.
Passing through the guardhouse requires a Bicycle, which must be ridden when leaving the building through the left side. Upstairs, in Pokémon Brown a Rhyhorn can be gained by trading away a Shellder.
Pokémon
[
]
Pokémon Brown

Pokémon
Location
Levels
Spearow
Grass
14, 15
Rattata
Grass
13
Abra
Grass
15
Oddish
Grass
13
Tangela
Grass
13
Doduo
Grass
13
Rijon Adventures

Pokémon
Location
Levels
Rattata
Grass
12, 14-15
Sentret
Grass
14
Furret
Grass
16
Pidgey
Grass
15
Natu
Grass
14-15
Taillow
Grass
13, 15
Trainers
[
]
Rijon Adventures
Trainer
Pokémon
File:RijonAdv-BirdKeeper.png
Bird Keeper Jacob
Reward: 448

Spearow
Lv. 14
No item

Pidgey
Lv. 14
No item

Taillow
Lv. 14
No item

Swablu
Lv. 14
No item
Brown
Trainer
Pokémon

Bird Keeper
Reward: 425

Spearow
Lv. 17
No item

Natu
Lv. 17
No item

Bird Keeper
Reward: 400

Spearow
Lv. 16
No item

Pidgey
Lv. 16
No item

Spearow
Lv. 16
No item

Zubat
Lv. 16
No item

Bird Keeper
Reward: 450

Spearow
Lv. 18
No item
Maps
[
]
Maps
Brown
Prism
Rijon
Adventures
[

]