Map description
This area is not described by a map.
Required for navigation
Connecting Locations
Location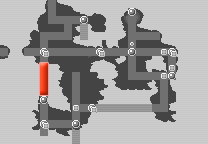 Location of Hayward Docks in Rijon.
The Hayward Docks are docks south of Hayward City. In Pokémon Brown, the docks and the water south of them are collectively known as Route 52. In Rijon Adventures, however, the docks extend all the way to Seashore City.
Items
[
]
Item
Location
Games
Ether
on the bridge
 RijonAdv 
Great Ball
on the bridge
 Brown 
Pokémon
[
]
Rijon Adventures

Pokémon
Location
Levels
Pidgey
Grass Grass
8-11
Rattata
Grass Grass
8-13
Nidoran♀
Grass Grass
8-13
Weedle
Grass Grass
2-12
Nidoran♂
Grass Grass
8-15
Metapod
Grass Grass
5-14
Psyduck
Surfing
21-25
Krabby
Surfing
20-26
Horsea
Surfing
26
Horsea
Fishing
20
Dratini
Fishing
15, 23-24
Horsea
Fishing
24
Dratini
Fishing
24
Shellder
Fishing
25
Brown

Pokémon
Location
Levels
Caterpie
Grass Grass
7
Metapod
Grass Grass
8
Rattata
Grass Grass
10-11
Ekans
Grass Grass
9
Oddish
Grass Grass
10
Doduo
Grass Grass
9
Maps
[
]
Maps
Brown
Prism
Rijon Adventures
[

]