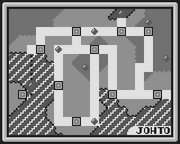 Johto is a region north of Rijon. Parts of it are accessible in Pokémon Brown, Pokémon Prism and Rijon Adventures.
Locations accessible
[
]
Route 34 - BPR
Ilex Forest - BPR
Slowpoke Well - BP
Goldenrod City - PR*
*Goldenrod City in Rijon Adventures does not have warps, except for the Pokémon Network Center which was originally from Sevii Islands, and the Goldenrod City Department Store which is an edited version of the Silph Co. from Saffron City, as the beta is unfinished, due to the cease and desist order.