Map description
This area is not described by a map.
Required for navigation
Connecting Locations
Location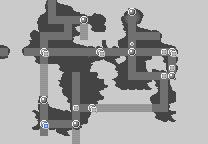 Location of Merson Cave in Rijon.
Merson Cave is a cave located in Rijon, between Gravel Town in the west and Merson City in the east. In the 2014 version of Pokémon Brown, it has a hidden healing spot.
Items
[
]
Item
Location
Games
Escape Rope
1F, on the path between the first Youngster and the Lass
 Brown 
Repel
1F, south of the ladder leading to B1F
 Brown 
Rare Candy
1F, on the plateau north of the ladder leading to B1F
 Brown 
Moon Stone
1F, in the upper left, near the Hiker watching the ladder
 Brown 
Potion
1F, below and to the left of the Super Nerd
 Brown 
TM34 (Bide)
1F, in the lower left, close to the exit ladder
 Brown 
TM09
F1, near the pond on the side with the exit to Merson Pass
 RijonAdv 
Sun Stone
1F, across the bridge
 RijonAdv 
Rare Candy
1F, north of the pond
 RijonAdv 
Black Flute
1F, on a rock shelf (unobtainable)
 RijonAdv 
Moon Stone
1F, west of smashable rocks
 RijonAdv 
Escape Rope
1F
 RijonAdv 
Antidote
B2F, north of Team Rocket Grunt
 RijonAdv 
Star Piece
B2F, in the corner nearby female Team Rocket Grunt
 RijonAdv 
Revive
F2B, south of the east ladder
 RijonAdv 
TM64
B2F, in the corner of a passage
 RijonAdv 
Dome Fossil
B2F, in a room with a spring
 RijonAdv 
Helix fossil
B2F, in a room with a spring
 RijonAdv 
Zinc
outside, behind PokeCenter (hidden)
 RijonAdv 
Pinap Berry
outside, near the enrance to the second part of the cave (hidden)
 RijonAdv 
Tiny Mushroom
B1F, in a rock (hidden)
 RijonAdv 
Tiny Mushroom
B1F, in a corner at the bottom of the stairs (hidden)
 RijonAdv 
Pokémon
[
]
Brown
Pokémon
Location
Levels
Rate
1F

Zubat
Cave
Level 3, 4
55%

Geodude
Cave
Level 3, 4
20%

Diglett

Cave
Level 4
20%

Vulpix
Cave
Level 4
4%

Cubone

Cave
Level 5
1%
B1F

Zubat
Cave
Level 3, 4
50%

Geodude
Cave
Level 3, 4
25%

Diglett

Cave
Level 4
15%

Slowpoke
Cave
Level 4
5%

Clefairy

Cave
Level 3
4%

Sandshrew

Cave
Level 4
1%
Rijon Adventures
Pokémon
Location
Levels
1F

Zubat
Cave
Level 2-6
%

Geodude
Cave
Level 3-4
%

Diglett

Cave
Level 4-5
%

Clefairy

Cave
Level 3
%
B1F

Abra
Cave
Level 3-5
%

Clefairy

Cave
Level 4
%

Geodude
Cave
Level 4
%

Vulpix
Cave
Level 2, 5
%

Paras
Cave
Level 3-4
%

Zubat
Cave
Level 6
%
B2F

Abra
Cave
Level 3-5
%

Clefairy

Cave
Level 6
%

Geodude
Cave
Level 4-5
%

Paras
Cave
Level 5
%

Zubat
Cave
Level 4-5
%
B3F

Machoke
Cave
Level 40-47
%

Sudowoodo

Cave
Level 41-45
%

Ariados
Cave
Level 38-42
%

Steelix
Cave
Level 41-45
%

Donphan

Cave
Level 43-46
%

Lairon
Cave
Level 42-48
%

Kadabra
Cave
Level 45-50
%

Crobat
Cave
Level 50
%

Wynaut

Cave
Level 42
%

Shuckle

Rock Smash
Level 46-50
%

Lileep

Rock Smash
Level 35-50
%

Anorith

Rock Smash
Level 35-50
%

Metang
Rock Smash
Level 44-49
%
Outside

Vulpix
Grass
Level 3
%

Oddish

Grass
Level 2
%

Geodude
Grass
Level 4
%

Bellsprout
Grass
Level 4
%

Pidgey
Grass
Level 4-6
%

Caterpie
Grass
Level 3
%

Growlithe
Grass
Level 4
%

Meowth

Grass
Level 3
%
Trainers
[
]
Brown
Trainer
Pokémon
1F

Youngster
Reward: 45

Rattata
Lv. 3
No item

Rattata
Lv. 3
No item

Zubat
Lv. 3
No item

Lass
Reward: 75

Pikachu
Lv. 5
No item

Clefairy
Lv. 5
No item

Bug Catcher
Reward: 60

Caterpie
Lv. 6
No item

Weedle
Lv. 6
No item

Caterpie
Lv. 6
No item

Hiker
Reward: 245

Rattata
Lv. 7
No item

Spearow
Lv. 7
No item

Rattata
Lv. 7
No item

Super Nerd
Reward: 200

Geodude
Lv. 8
No item

Geodude
Lv. 8
No item

Lass
Reward: 135

Clefairy
Lv. 9
No item

Bug Catcher
Reward: 80

Weedle
Lv. 8
No item

Weedle
Lv. 8
No item
Rijon Adventures
Trainer
Pokémon
1F

Youngster Arvan
Reward: 48

Rattata
Lv. 3
No item

Rattata
Lv. 4
No item

Zubat
Lv. 3
No item

Lass Lesley
Reward: 80

Pikachu
Lv. 5
No item

Clefairy
Lv. 5
No item

Lass Eadie
Reward: 80

Cubone
Lv. 5
No item

Bug Catcher Gareth
Reward: 352

Caterpie
Lv. 9
No item

Butterfree
Lv. 10
No item

Camper Robby
Reward: 200

Zubat
Lv. 9
No item

Venonat
Lv. 9
No item

Vulpix
Lv. 10
No item

Rich Boy Kiran
Reward: 2000

Zigzagoon
Lv. 10
No item

Zigzagoon
Lv. 10
No item
B2F

Team Rocket Grunt
Reward: 256

Ekans
Lv. 7
No item

Poochyena
Lv. 7
No item

Team Rocket Grunt
Reward: 320

Houndour
Lv. 10
No item

Team Rocket Grunt
Reward: 256

Sandshrew
Lv. 7
No item

Rattata
Lv. 8
No item

Zubat
Lv. 8
No item

Team Rocket Grunt
Reward: 325

Poochyena
Lv. 10
No item

Sandshrew
Lv. 11
No item
Layout
[
]
| Version | 1F | B1F | B2F | B3F | Outside |
| --- | --- | --- | --- | --- | --- |
| Brown | | | | | |
| Prism | | | | | |
| Rijon Adventures | | | | | |
[

]