Naljo is a region within the Pokémon world that appears in Pokémon Prism. Naljo is made up of several islands, connecting to Rijon (East), and Tunod (North), and possibly an Unidentified Region.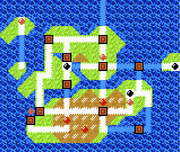 Cities & Towns
[
]
In order of appearance.
Despite being called a city, Caper is a small village at the foot of the mountains south-west of Naljo. It's a quiet settlement and home to Professor Ilk.
Home to Josiah, Leader of the Oxalis Gym.
The metropolitan heartland of the Naljo region. The Department Store, Spurge Orphanage, and Spurge Casino can be found here. Home to Bruce, Leader of the Spurge Gym.
A traditionally styled village, located next to Rinji's Forest, the location of the Heath Gym. The Leader here is Rinji. There is no Pokemon Center or PokeMart here, but the player can rest their pokemon and buy items at the Inn. All of the village's inhabitants belong to the same family.
Home to Leader Brooklyn of the Laurel Gym. The player can revive fossils at the Lab here. There is also an entrance to Magikarp Cavern toward the east side of the City.
Home to Leader Edison of the Torenia Gym. There is a Magnet Train station here, as well as the Torenia Pachisi Hall. Torenia is considered the youngest city in the Naljo region.
A new town, that is just starting to be developed. Home to the Move Deleter and Andre, Leader of the Phacelia Gym.
A town built entirely on the water. Home to the Acania Gym, and Leader Ayaka.
Most noted for Saxifrage Prison, Saxifrage Island used to be a sacred place but was developed to make way for the Prison. Home to Cadence and the Saxifrage Gym.
A small town located on top of the Southwest mountains in the Naljo region. The climate is cold and icy here. Home to the Algernon Laboratories, and the Phlox Bingo Hall.
Appearances
[
]
Pokémon Prism
[
]
Naljo is the main region in Pokemon Prism, which the player accesses after arriving from an Unidentified Region.
Mentions
[
]
Pokémon Brown
[
]
Naljo is mentioned various times throughout the game, and a guard blocks the Naljo exit inside the International Tunnel. It is unknown exactly where the region limits between Naljo and Rijon are within the International Tunnel, meaning that the player could technically be inside the region of Naljo in Pokémon Brown.