Map description
This area is not described by a map.
Required for navigation
Connecting Locations
Location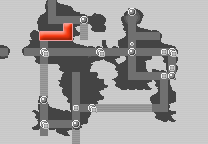 Location of Origal Maze in Rijon.
The Origal Maze (Route 50 in Pokémon Brown) is a route in Rijon, between the Nugget Pass (Route 51) and the Cycling Foothill (Route 49). These three routes connect Hayward City and Owsauri City.
Items
[
]
Item
Location
Games
HM01 (Cut)
near Camper Myles
 RijonAdv 
Elixir
near Hiker Franklin (hidden)
 RijonAdv 
Bulk Berry
North of the puddles (hidden)
 RijonAdv 
Oran Berry
southof the puddles (hidden)
 RijonAdv 
National Expansion Card
given by May
 RijonAdv 
HM01 (Cut)
 Brown 
TM39 (Swift)
given by a girl in the Guard Station
 Brown 
Pokémon
[
]
Rijon Adventures
Pokémon
Location
Levels
Geodude
Grass Grass
15-16
Pidgey
Grass Grass
13
Oddish
Grass Grass
13-14
Kadabra
Grass Grass
16
Poliwag
Grass Grass
11-12
Doduo
Grass Grass
15
Ditto
Grass Grass
13
Pokémon Brown
Pokémon
Location
Levels
Metapod
Grass Grass
7
Weedle
Grass Grass
8
Kakuna
Grass Grass
9
Pidgey
Grass Grass
13
Oddish
Grass Grass
12-14
Abra
Grass Grass
10-12
Trainers
[
]
Brown
Trainer
Pokémon

Hiker
Reward: 525

Sandshrew
Lv. 15
No item

Krabby
Lv. 15
No item

Youngster
Reward: 225

Slowpoke
Lv. 15
No item

Charmeleon
Lv. 15
No item

Hiker
Reward: 595

Diglett
Lv. 17
No item

Youngster
Reward: 255

Tangela
Lv. 17
No item

Lass
Reward: 225

Koffing
Lv. 15
No item

Poliwag
Lv. 15
No item

Hiker
Reward: 455

Geodude
Lv. 13
No item

Onix
Lv. 13
No item

Machop
Lv. 13
No item

Eevee
Lv. 13
No item

Jr. Trainer ♂
Reward: 280

Rattata
Lv. 14
No item

Ekans
Lv. 14
No item

Youngster
Reward: 210

Butterfree
Lv. 14
No item

Seel
Lv. 14
No item

Lass
Reward: 195

Bellsprout
Lv. 13
No item

Oddish
Lv. 13
No item

Growlithe
Lv. 13
No item
Rijon Adventures
Trainer
Pokémon

Hiker Franklin
Reward: 576

Machop
Lv. 16
No item

Geodude
Lv. 17
No item

Hiker Wayne
Reward: 612

Nosepass
Lv. 17
No item

Ace Trainer Barry
Reward: 816

Bayleef
Lv. 10
No item

Picnicker Kelsey
Reward: 256

Nidoran♂
Lv. 16
No item

Nidoran♀
Lv. 16
No item

Camper Myles
Reward: 280

Houndour
Lv. 15
No item

Ekans
Lv. 14
No item

Hiker Nob
Reward: 256

Geodude
Lv. 15
No item

Geodude
Lv. 15
No item

Geodude
Lv. 15
No item

Machop
Lv. 16
No item

Youngster Chad
Reward: 256

Ekans
Lv. 14
No item

Sandshrew
Lv. 14
No item

Parasol Lady Livinia
Reward: 680

Zigzagoon
Lv. 15
No item

Lotad
Lv. 15
No item

Sentret
Lv. 17
No item

Young Couple Gia & Jes
Reward: 952

Nidorino
Lv. 17
No item

Nidorina
Lv. 17
No item
Maps
[
]
Maps
Brown
Prism
Rijon
Adventures
[

]