Rijon is a region within the Pokémon world that appears in Pokémon Brown, Pokémon Prism, and Rijon Adventures.
Geography
[
]
Rijon is located south of Johto; there is a small island in Johto which connects to the region. West of Rijon is the Naljo region, which is featured in Pokémon Prism. And new to Pokémon Rijon Adventures is South Rijon, which is south of the Rijon region, accessible from Merson City.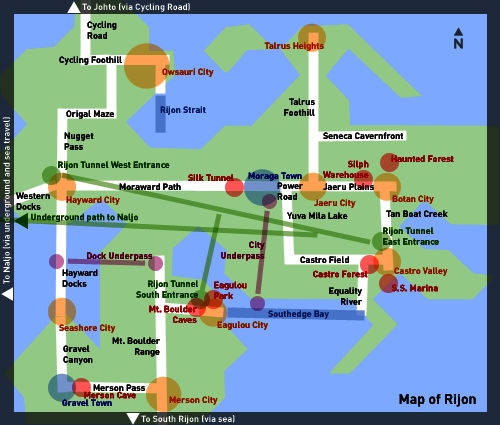 Appearances
[
]
Pokémon Brown
[
]
Rijon is the main region within Pokémon Brown. The only areas outside of Rijon that are accessible in the game are a small part of Johto (including Azalea Town), and possibly a small part of Naljo in the International Tunnel.
Pokémon Prism
[
]
While not completally playable in the current beta, it is mentioned several times from NPCs within the region of Naljo. The player is able to visit Botan City when he or she has access to the Magnet Train. However, the city has been quarantined and the player is only able to access Haunted Forest at the moment.
Rijon Adventures
[
]
Rijon returns as the main region of this game.
Locations
[
]
Main article: List of locations in Rijon
Sources
[
]