Map description
This area is not described by a map.
Required for navigation
Connecting Locations
Location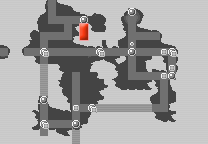 Location of Rijon Strait in Rijon.
The Rijon Strait (Route 66 in Pokémon Brown) is a dead-end water route in Rijon, south of Owsauri City.
Items
[
]
Pokémon
[
]
Brown
Pokémon
Location
Levels
??
Surfing
??
Trainers
[
]
Rijon Adventures
Trainer
Pokémon
Triathlette Richard
Reward: 520
Carvanha
Lv. 13
No item
Swimmer♂ Dylan
Reward: 56
Mudkip
Lv. 15
No item
Staryu
Lv. 14
No item
Starmie
Lv. 14
No item
Swimmer♂ Tony
Reward: 120
Horsea
Lv. 30
No item
Horsea
Lv. 30
No item
Swimmer♂ David
Reward: 116
Goldeen
Lv. 29
No item
Shellder
Lv. 29
No item
Seaking
Lv. 29
No item
Swimmer♂ Douglas
Reward: 108
Horsea
Lv. 27
No item
Tentacool
Lv. 27
No item
Tentacool
Lv. 27
No item
Goldeen
Lv. 27
No item
Swimmer♂ Matthew
Reward: 120
Poliwag
Lv. 30
No item
Poliwhirl
Lv. 30
No item
Swimmer♂ Axle
Reward: 108
Tentacool
Lv. 27
No item
Tentacool
Lv. 27
No item
Tentacruel
Lv. 27
No item
Staryu
Lv. 27
No item
Horsea
Lv. 27
No item
Sis abd Bro Lia & Luc
Reward: 240
Goldeen
Lv. 30
No item
Seaking
Lv. 30
No item
Swimmer♀ Anya
Reward: 108
Poliwag
Lv. 27
No item
Seaking
Lv. 27
No item
Goldeen
Lv. 27
No item
Goldeen
Lv. 27
No item
Poliwag
Lv. 27
No item
Swimmer♀ Connie
Reward: 116
Staryu
Lv. 29
No item
Staryu
Lv. 29
No item
Staryu
Lv. 29
No item
Swimmer♀ Alice
Reward: 120
Goldeen
Lv. 30
No item
Seaking
Lv. 30
No item
Maps
[
]
Maps
Brown
Prism
Rijon Adventures
Trivia
[
]
[

]