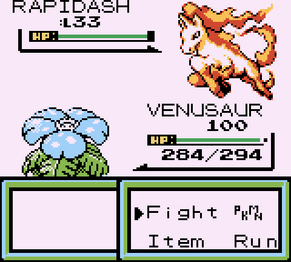 An underleveled Pokémon is an evolved Pokémon at a lower level than what is possible via evolution.
Pokémon Brown
Edit
Because Pokémon Brown is a Red hack, all Pokémon with index numbers 0 to 199 can be caught at level 1 using the Mew glitch.

By extension, this means that Pokémon which evolve using items can also be obtained at level 1.
Thanks to in-game trades, it is also possible to trade a level 1 Gligar for a level 1 Eevee that will evolve into a Leafeon, and a level 1 Rhyhorn for a level 1 Crobat.
Pokémon Prism
Edit
Rijon Adventures
Edit
| Pokémon | Level of evolution | Lowest level | Location |
| --- | --- | --- | --- |
| Kadabra | 16 | 15 | Nugget Pass |